Jerome Wargnier is the author and contributor of numerous publications on human capital development and new learning approaches.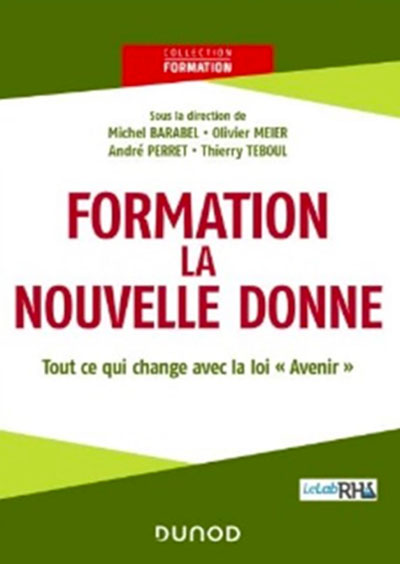 L&D, the New Deal (available only in French)
Collective book directed by Michel Barabel, Olivier Meier, André Perret and Thierry Teboul – Dunod, 2019 (Contribution – The innovative role of corporate L&D)
The change generated by the law of September 5th, 2018 is far from insignificant. We were already talking about a paradigm shift in 2014 during the major training reform. Today, the title of the law is enough to show the extent of the transformation: "Law for the freedom to choose one's professional future" or "Future Law". The individual is no longer only an actor in his learning, but also in his professional future and the skills associated with it.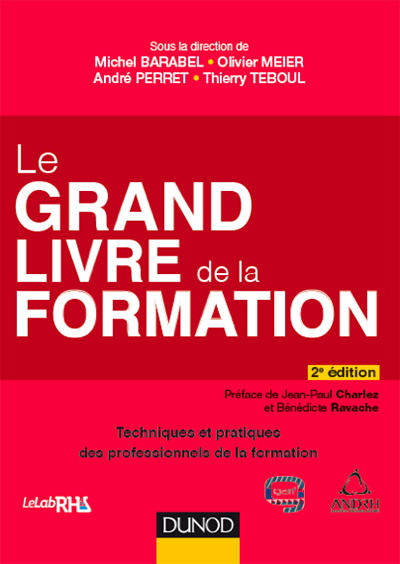 Le grand livre de la formation - 2ème édition
Collectif sous la direction de Michel Barabel, Olivier Meier, André Perret et Thierry Teboul – Dunod, 2016 (Contribution : Le nouveau visage des universités d'entreprise)
La nouvelle loi sur la formation professionnelle est entrée en 2015 dans sa première année d'application. Il s'agit d'une loi de "rupture" qui donne aux salariés le plein contrôle sur la formation professionnelle, grâce notamment au CPF que doit ouvrir toute personne dès 16 ans et qui la suivra tout au long de sa vie professionnelle. Tout le paysage de la formation professionnelle s'en trouve bouleversé. Cette seconde édition a été entièrement restructurée autour de trois parties : le nouvel environnement professionnel, la formation professionnelle dans les entreprises – avec présentation des nouveaux dispositifs de formation et un chapitre entier consacré aux universités d'entreprise – et enfin les modalités et outils pédagogiques de la formation. Chaque chapitre se termine par des fiches pratiques, des outils et des conseils.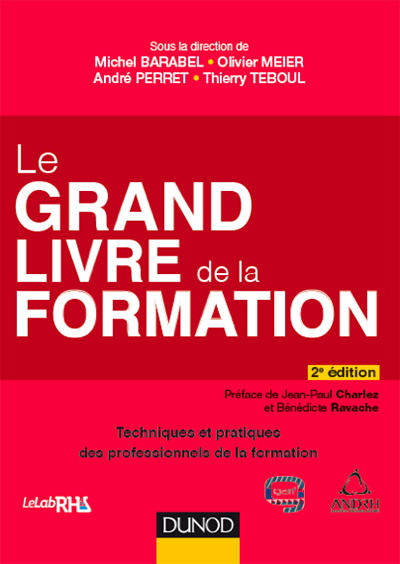 Effective Learning with 70:20:10 for the Extended Enterprise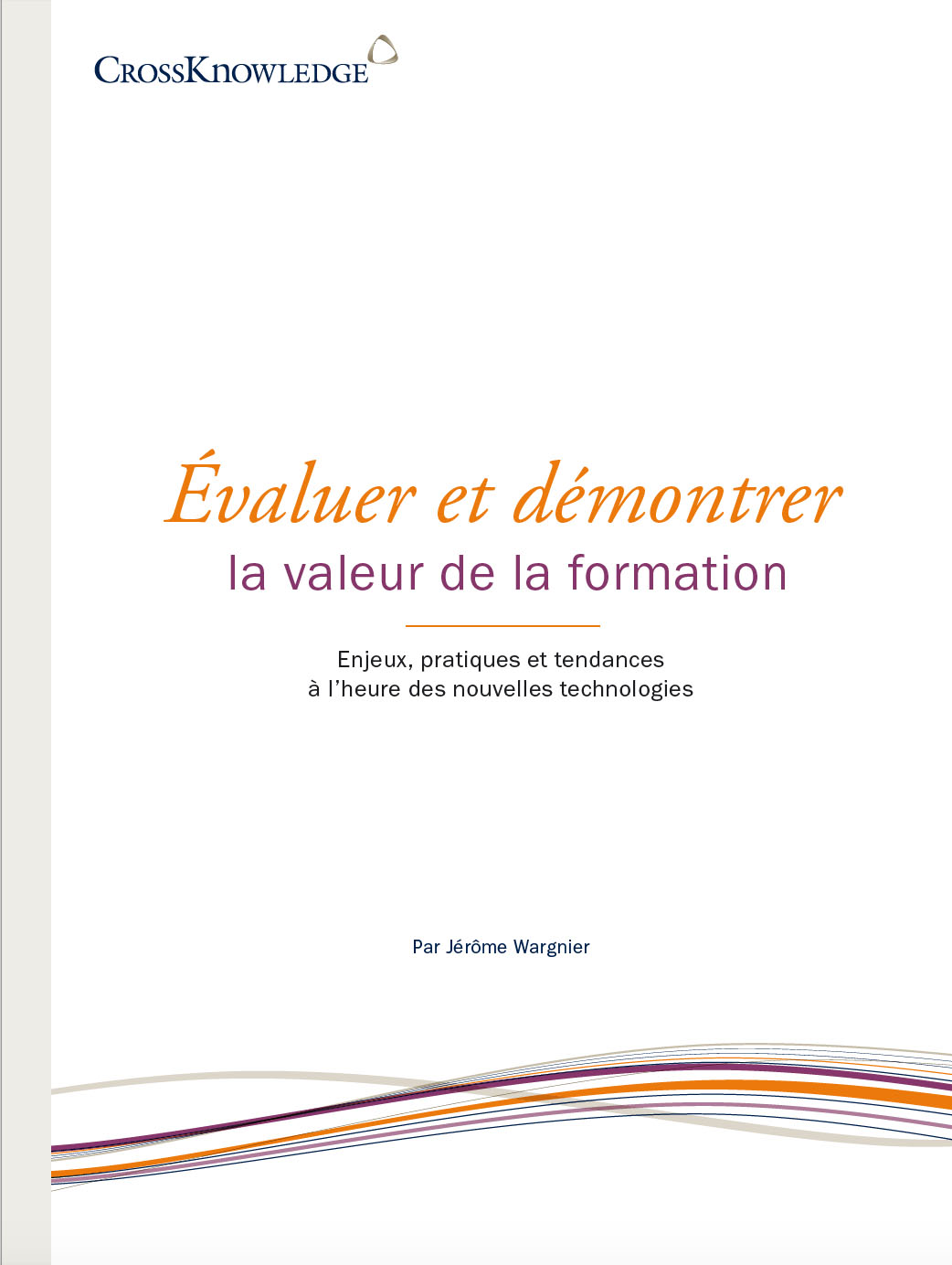 Evaluating and Demonstrating the Value of Learning
Jerome Wargnier – CrossKnowledge, 2013
Is training a cost or an investment? The question might seem a little brutal, but it is asked more and more often at senior management meetings. The answer depends on us: on our ability to demonstrate how our budgets contribute to business performance.
The ambition of this white paper is to clarify the challenges of assessment for each stakeholder, to review the evaluation models available to us, and to see what impact changes in the world of training have had on assessment approaches. Its main aim is to share corporate best practices and to suggest practical ways of demonstrating the true value of our contribution.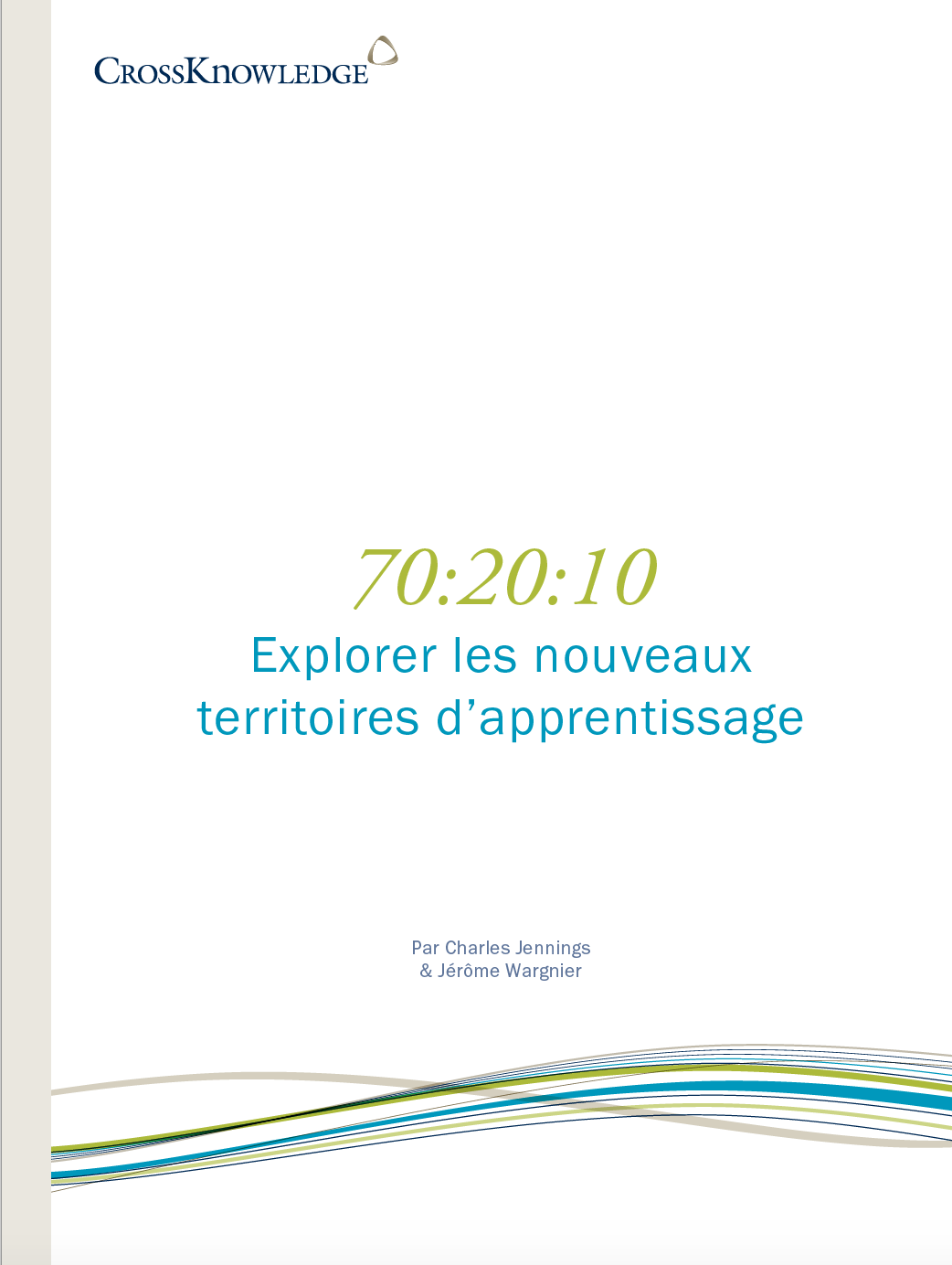 Effective Learning with 70:20:10 for the Extended Enterprise
Charles Jennings & Jerome Wargnier – CrossKnowledge, 2011
The 70-20-10 model accredited to Lombardo & Eichinger (1996) suggests that lessons learned by successful and effective managers are roughly 70% from tough jobs, 20% from people (mostly the boss), and 10% from courses and reading. Although the theory is widely accepted to be accurate and is largely uncontested, learning and development professionals commonly struggle to find the right tools and strategies to apply the model within their organisation. This paper is the result of extensive consultation with L&D teams worldwide by Jerome Wargnier and Charles Jennings and brings to light all the different questions that training professionals have asked them in recent years.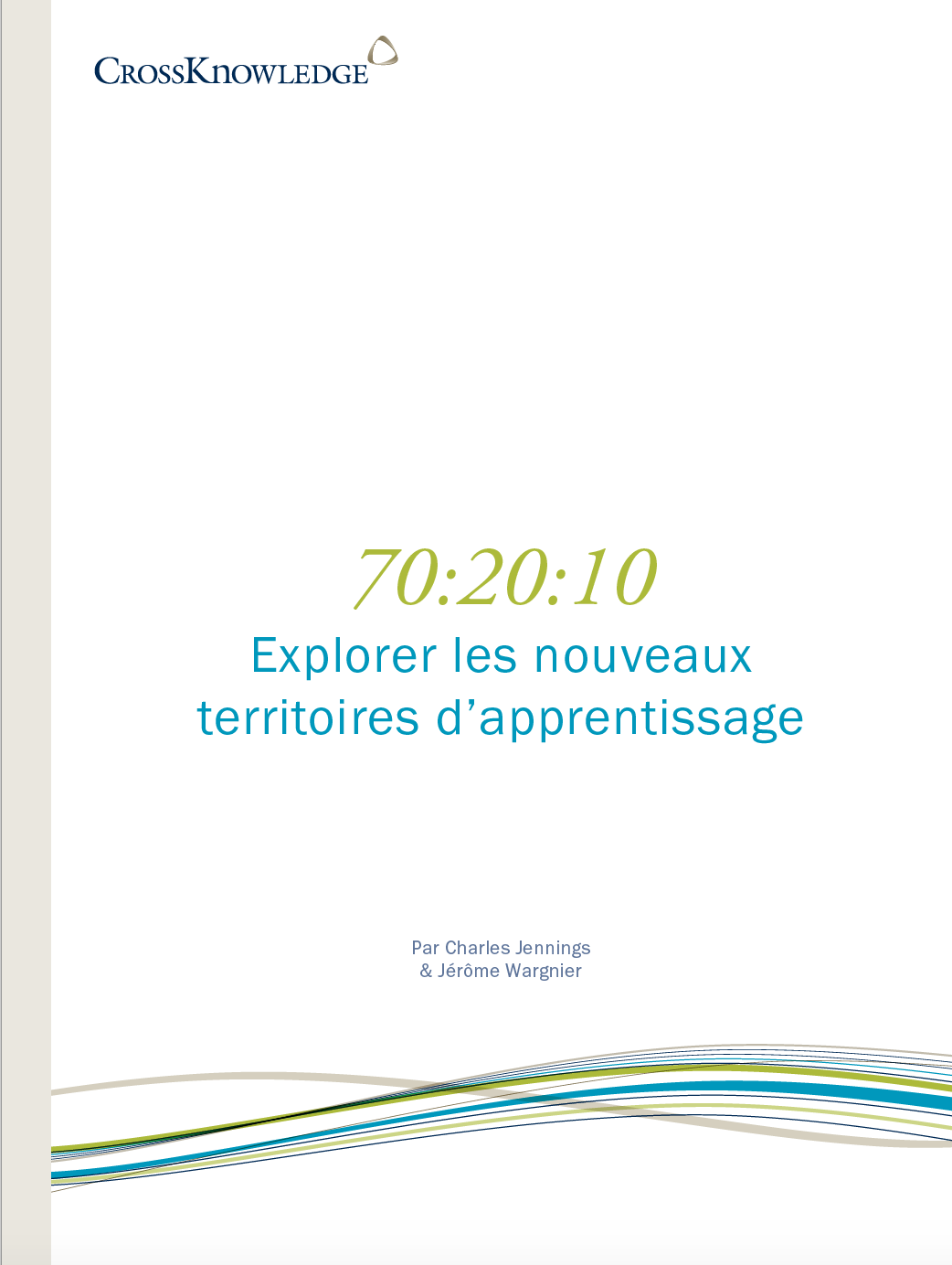 Looking for real training expertise?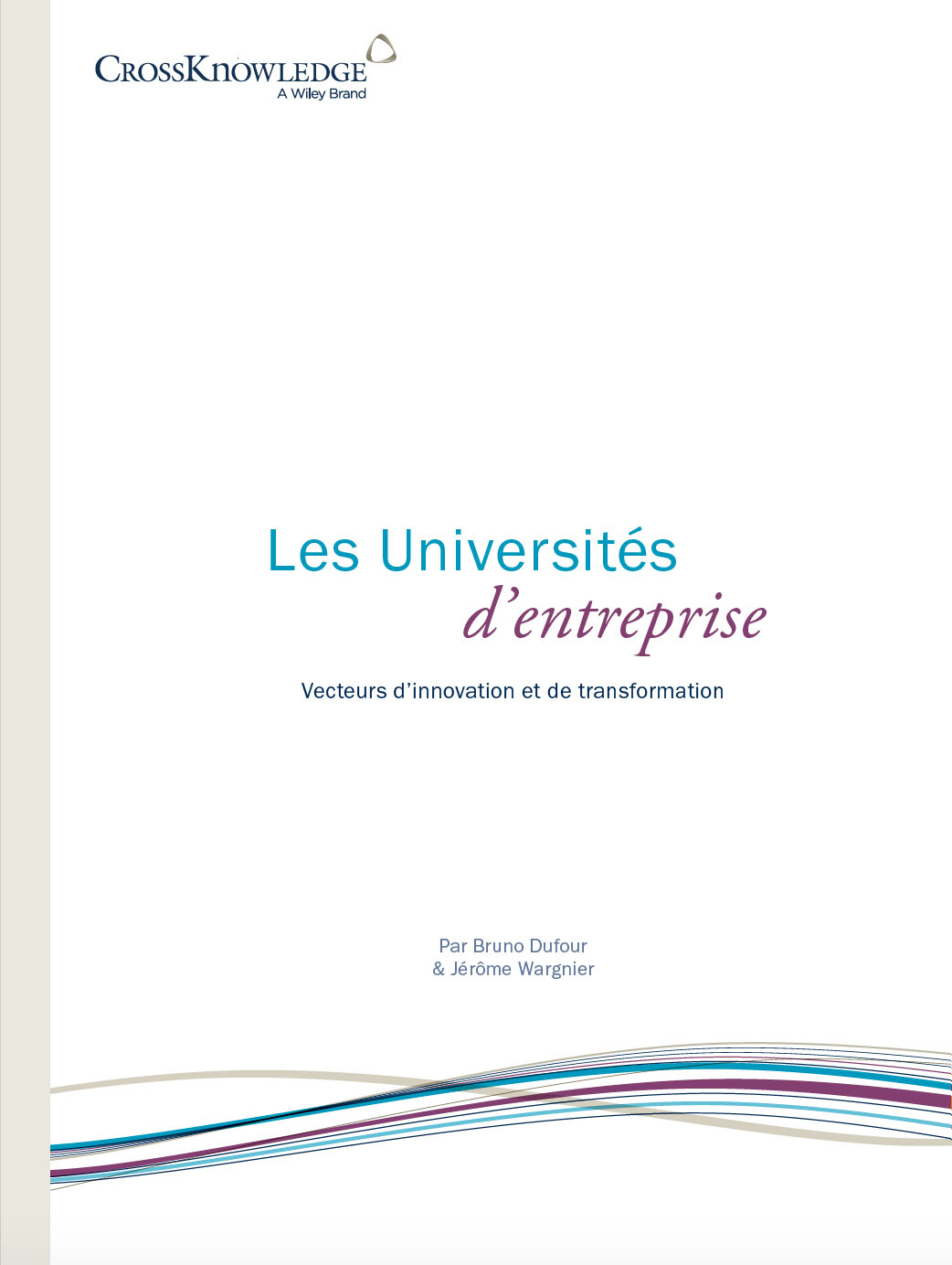 Corporate Universities: From Business-Driven Learning to a Learning-Driven Business
Bruno Dufour & Jerome Wargnier – CrossKnowledge, 2011
Deciding to set up a Corporate University can be a little like embarking on voyage over unfamiliar seas. In such a situation, it helps to know your precise point of departure, your heading and your ports of call. This White paper provides some useful navigation aids to assist on your Corporate University voyage.
Our aim is to provide some useful navigation aids to assist on your CU voyage. We will summarize the evolution of Corporate Universities, identify common themes and recent breakthroughs, and then highlight some key success factors.
Informal Learning - Let's share what works!
Jerome Wargnier – CrossKnowledge, 2012
Is informal learning really a new trend? In practice, "on-the-job" training has always been a significant part of the educational process. The major change is the widespread use of new technologies and its impact on informal learning. We collected the perceptions of about 100 training professionals on the way they use informal learning in their organizations. We present this analysis here and share with you what works in social learning today.
More with Less – We must do more and better not to be condemned to do less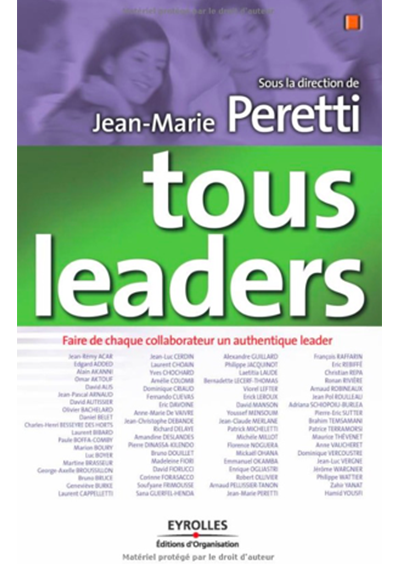 Tous leaders
Collectif sous la direction de Jean-Marie Peretti – Eyrolles, 2011 (Contribution : le leader 2.0)
Tous leaders ? Titre paradoxal, et qui pourtant traduit bien, dans un contexte de crise, de forte concurrence et d'incertitude, le besoin de leaders à tous les niveaux que ressentent aujourd'hui les entreprises et les organisations. Car le terme leader ne doit pas être réservé aux responsables hiérarchiques: il s'agit de personnes qui se distinguent par leurs capacités d'influence et d'entraînement. Les leaders sont ainsi des agents privilégiés du changement et de l'efficacité collective. Cet ouvrage a pour vocation d'aider les organisations à : définir la notion de leadership et la faire entrer en résonance avec leurs stratégies ; identifier les différents types de leaders ; développer leur potentiel ; s'ouvrir à des expériences très variées de gestion des leaders. Réflexions sur la notion de leader, études de cas et définitions de meilleures pratiques permettent de guider le lecteur dans la recherche d'une organisation optimale, qui ferait de chacun des collaborateurs un authentique leader.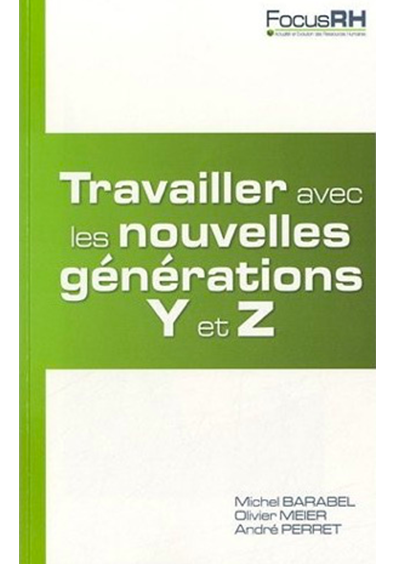 Travailler avec les nouvelles générations Y et Z
Collectif sous la direction de Michel Barabel, Olivier Meier et André Perret – Studyrama, 2012 (Contribution : Intégrer le marketing dans les dispositifs de formation)
Enfin un ouvrage qui aborde l'insertion des jeunes générations dans l'entreprise dans toute sa complexité tout en développant une vision pragmatique ! Du recrutement à l'équilibre entre vie privée et vie professionnelle tout en passant par l'intégration, le management, la formation et la gestion des carrières, les auteurs apportent pour chaque situation des clés pour comprendre, dépasser les stéréotypes ou préjugés, et faire de la cohabitation intergénérationnelle une force pour les organisations. Véritable outil pour mieux vivre et réussir ensemble, le discours des auteurs est éclairé de réflexions d'experts pluridisciplinaires (historiens, sociologues, RH, psychologues, pédagogues…), d'études statistiques et socio-économiques d'envergure ainsi que de nombreux cas d'entreprises.